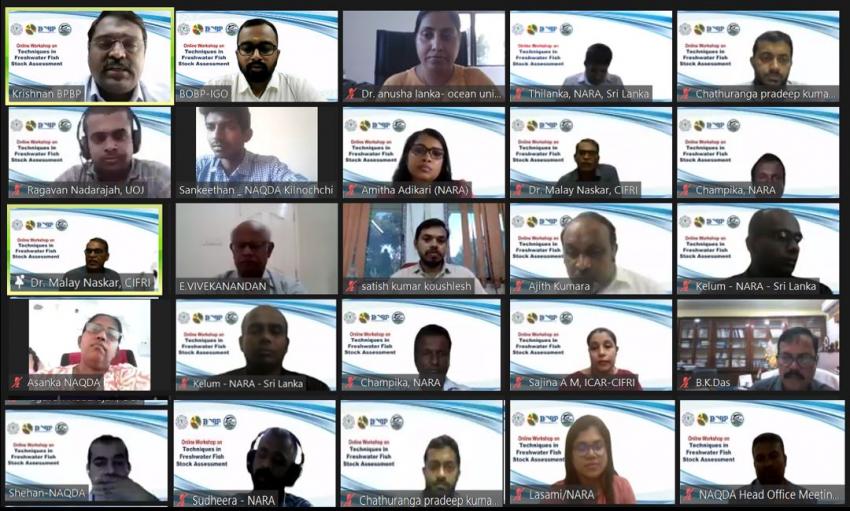 BOBP-IGO in collaboration with ICAR-Central Inland Fisheries Research Institute (ICAR-CIFRI) and National Aquatic Resources Research and Development Agency (NARA) organized an Online Workshop on Techniques in Freshwater Fish Stock Assessment on 12 July, 2023. This Workshop was a sequel to the Management Development Programme on New Paradigm in Fish Stock Assessment organized during 25 May – 1 June, 2023 in Colombo jointly with the Government of Sri Lanka.
The participants (45 Nos) consisted of fisheries researchers from NAQDA and NARA; officials from the Department of Fisheries and academicians from Universities in Sri Lanka.
Dr. P. Krishnan, Director, BOBP-IGO welcomed the participants and provided an overview of the workshop. He thanked Dr. B. K. Das, Director, ICAR-CIFRI and the Government of Sri Lanka for the support extended to organize the event.
In his opening remarks, Dr. B. K. Das, Director, ICAR-CIFRI highlighted the potential areas of collaboration between the researchers in India and Sri Lanka.
Dr. Malay Naskar, Dr. AM Sajina and Mr. Sathish K Koushlesh, scientists from ICAR-CIFRI were the resource persons for the workshop.
Dr. P. Krishnan assured to develop a network among researchers from India and Sri Lanka, working in the area of inland fisheries management, which will act as a knowledge sharing platform.
Dr. E. Vivekanandan moderated the technical sessions. Dr. Geevika Ganegamaaachchi, ADG, NARA in her closing remarks, thanked BOBP-IGO and ICAR-CIFRI for organizing the workshop. She also looked forward to research collaborations between institutions in India and Sri Lanka.